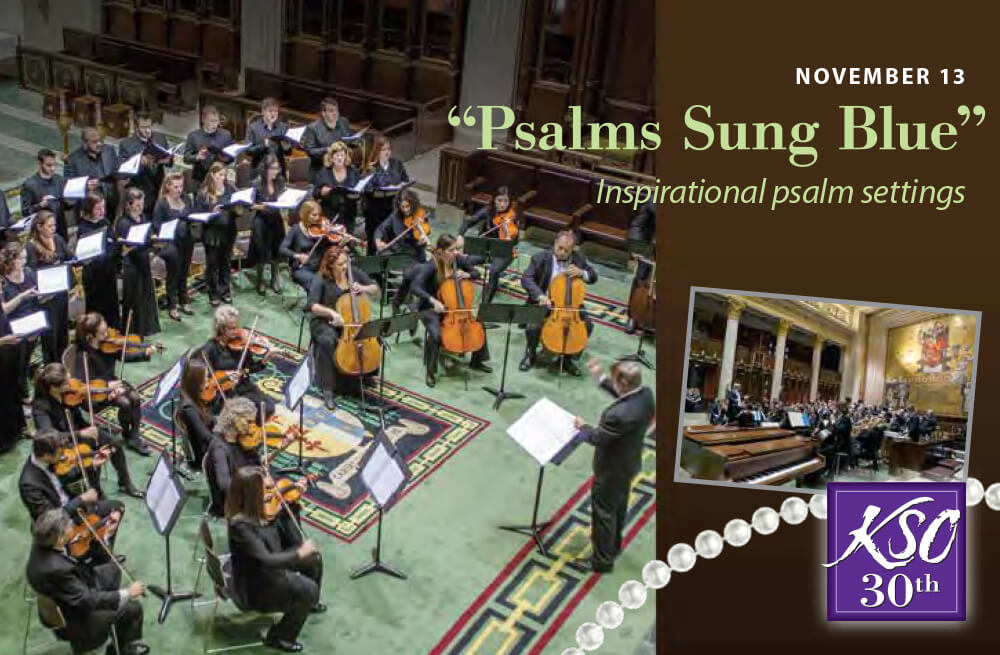 "Psalms Sung Blue"
Inspirational Psalm settings

---
7:30 Saturday, November 13, 2021
St. Peter in Chains Cathedral Basilica, Cincinnati, OH
Collaborating with the Cathedral Basilica of St. Peter in Chains Choir and its director Matthew Geerlings is always an uplifting artistic treat for both musicians and the audience. King David's Psalms have long inspired composers over the centuries. George Frideric Handel's Dixit Dominus (Psalm 110) was written in Italy when Handel was 22 years old, and demonstrates his mastery of counterpoint, melodic invention and dramatic gesture. The piece is a choral tour-de-force and regarded as one of Handel's finest works. Alexander Zemlinsky's fantasy-style setting of the popular Psalm 23 (The Lord is my shepherd) is a chromaticized tone-painting of the pastoral setting with God as the shepherd. The last Book of Psalms (No. 150), enjoins everyone to praise God with music and dance. Devout Catholic, Anton Bruckner closes the program with his uplifting psalm of praise, power and glory.
Single Tickets $35 each, with two ways to enjoy performances — in person and via live stream! Every ticket purchased, automatically provides access to the virtual stream (and archived performance).  Single Ticket sales for non-subscribers begin October 17, 2021.  Single ticket sales subject to processing and handling fees: $1.50 per ticket plus credit card merchant fee 3.5%. Mailing an additional $1.15 if requested.
Get your tickets for less by subscribing now! 
Enjoy the "best" seats in the house at $5 off per concert with one low processing fee.  Plus the chance to get additional tickets before the general public.
Click here for Parking information.
Note: Your safety is our priority, the KSO follows current protocols at each venue including:
– physical distancing (limited capacity)
– providing hand sanitizer
– reducing touch points
– Wearing face mask (suggested).
Please stay home if you are sick, or have been exposed to anyone with COVID-19 in the last 72 hours.
---