Subsidiary Groups
Over the years, the KSO has formed smaller subsidiary groups to explore and perform different genres of essentially American music. These groups allow the KSO to perform in venues and at functions that could not accommodate a full Symphony orchestra. To inquire about one of these groups performing in your area, contact the KSO.
---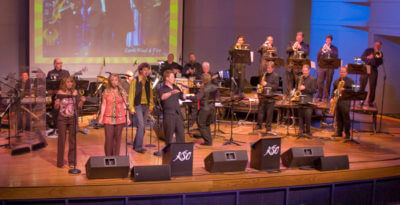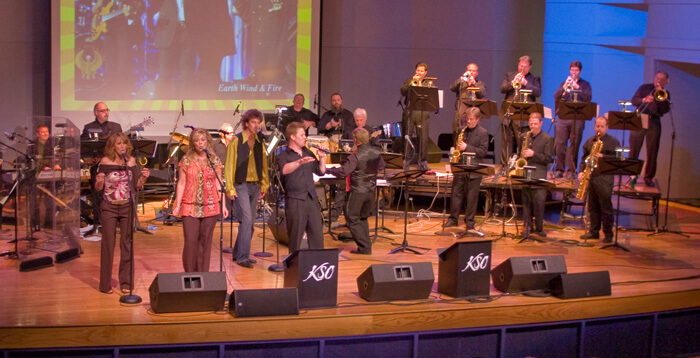 KSO Studio Orchestra (Boogie Band)
The KSO's Boogie Band is a 21-piece band that plays a variety of authentic popular music from the past 50 years. This group plays full evenings for listening and dancing in each of the following styles: Country, Latin, 60s, 70s and 80s. Shows to be added in the next couple of years include Rhythm & Blues and "The Best Of".
Instrumentation: 3 reeds, 3 trumpets, 1 trombone, keys, guitars bass, drums, aux percussion, 6 violins, 2 celli, 8 vocalists
Average length of program: 20-150 minutes
Repertoire Examples:
Country: Mountain Music, Crazy, Still the One, Redneck Woman
Latin: Livin' La Vida Loca, Macarena, Conga, Evil Ways, Baila Casanova
R&B: Respect, Midnight Hour/Mustang Sally, Soul Man, Never Gonna Get it
60s: Aquarius, Puff the Magic Dragon, Downtown, Proud Mary, You've Made Me So Very Happy
70s: Play that Funky Music, Saturday in the Park, YMCA, That's the Way I Like it, The Hustle
80s: Call Me, Beat It, Wake Me Up Before You Go-Go, Ghostbusters
Recordings: Boogie Bytes: The Music of our Youth (Hear sample recordings on the KSO CD page)
---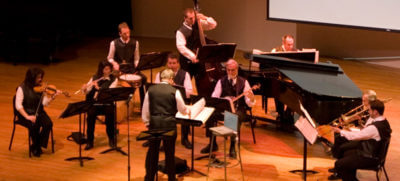 The Newport Ragtime Band
The Kentucky Symphony Orchestra's 9-piece Newport Ragtime Band specializes in authentic American ragtime and early jazz music from 1897-1929, featuring authentic charts by Scott Joplin, Jelly Roll Morton, Eubie Blake, Zez Confrey and local Cincinnati musicians of the era like Artie Matthews, Floyd Willis and Homer Denny among others.
Instrumentation: flute, clarinet, trumpet, trombone, piano, drums, violin, banjo, string bass
Average length of program: 90 minutes
Repertoire Examples: The Entertainer, Black Bottom Stomp, Charleston Rag, Mississippi Mud, Basin Street Blues
Recordings: KSO Newport Ragtime Band Rags to Riches: the Roots of America's Musical Heritage (Hear sample recordings on the KSO CD page)
---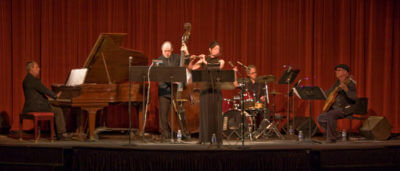 Flood Wall Jazz Quartet
The Floodwall Jazz Quartet performs all of the jazz suites of Claude Bolling. Bolling, a jazz pianist/composer, has composed suites for classical music's elite (Jean Pierre Rampal, flute; Yo-Yo Ma, cello; Pinchas Zuckerman, violin, Maurice Andre, trumpet, George Shearing, guitar). These suites combine jazz stylings with traditional classical forms to create a listenable and relaxing musical experience.
Instrumentation: Most often appears as a quintet with flute, guitar, piano, bass and drums.. For expanded variety, trumpet, violin and cello can be added.
Average length of program: 90 minutes
Recordings: The Flood Wall Jazz Quintet: Live at the Xavier Swing Series (Hear sample recordings on the KSO CD page)
---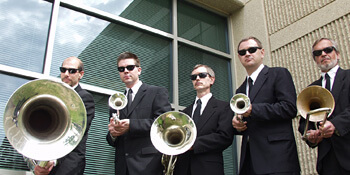 Men in Black Brass Quintet
The Men in Black Brass Quintet serves many functions, including the KSO's education outreach program to schools where the group performs concerts and clinics. A standard brass quintet, MIB plays a variety of music and arrangements including those written for and recorded by the Canadian and Empire Brass.
Instrumentation: 2 trumpets, French horn, trombone and tuba
Average length of program: 60 minutes
Repertoire Examples: William Tell, West Side Story Selections, Ain't Misbehavin'
---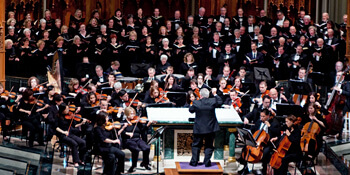 KSO Chorale
The KSO Chorale was formed in 1999 to explore a variety of choral/orchestral works including those which have never been performed in the Greater Cincinnati area. The Chorale has given area premieres of Hector Berlioz' Messe Solenelle, Paul McCartney's Standing Stone and Philip Glass' "Funeral" from Akhnaten. The KSO Chorale has also performed standard repertoire ranging from Orff's Carmina Burana and Mozart's Requiem to Verdi's Otello and Webber's Evita.
The KSO Chorale meets only when there is a scheduled work. Practice CDs are often provided for big works. Rehearsals are very limited and members are expected to know their parts prior to the first rehearsal. Those wishing to join the KSO Chorale should e-mail James Cassidy (jr@kyso.org) with their choral experience and contact information.