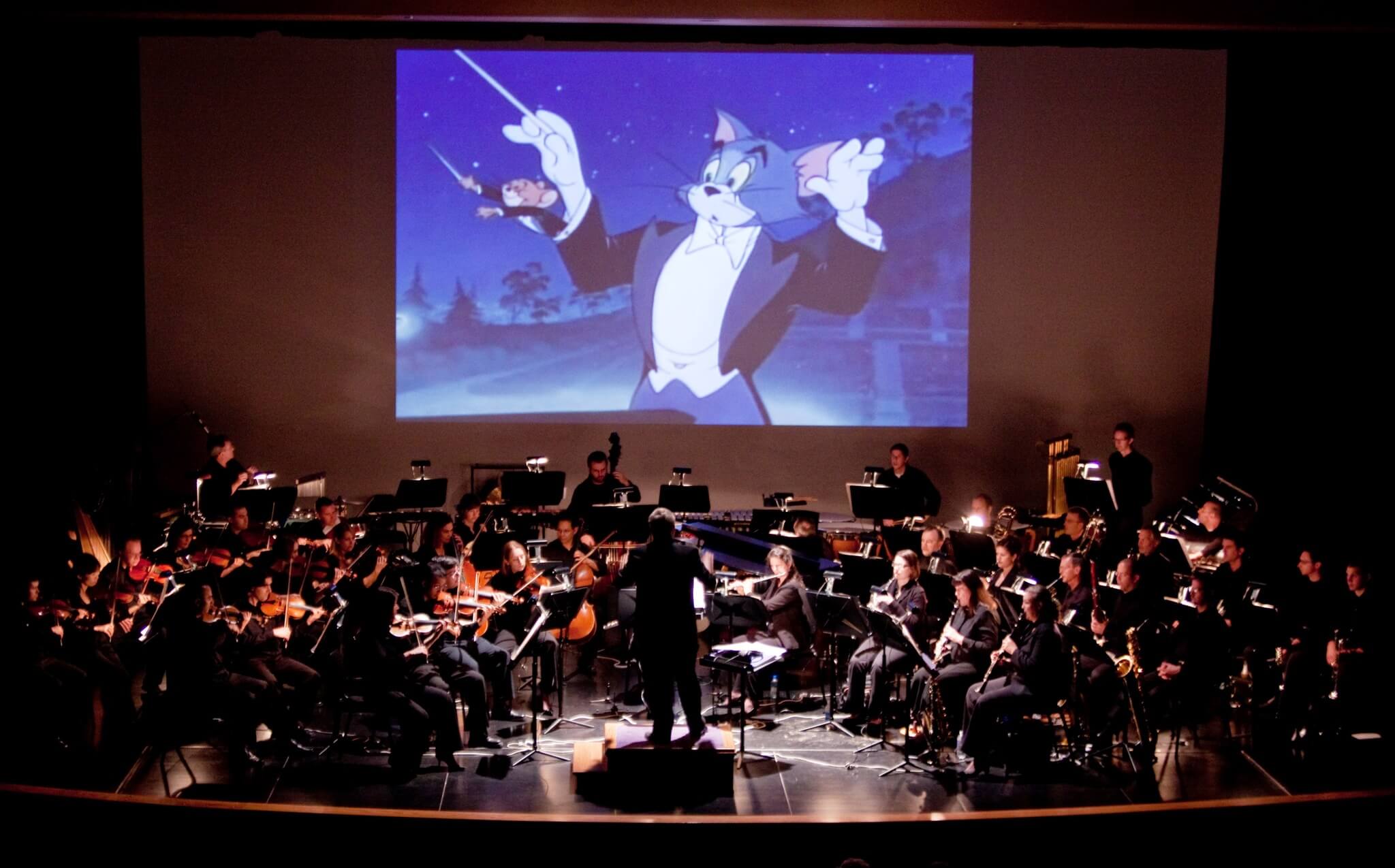 TV Guide – Middletown, OH
September 4 @ 7:00 pm
9:00 pm
TV Guide
7:00 p.m. Monday, September 4, 2023
Woodside Cemetery and Arboretum, Middletown, OH

**Stage directly in front of Chapel (Click here for Site map) **

Nostalgia is always reflected in fashion, pop music, hairstyles, cars and furnishings, but nothing zaps folks back in time like the television programs of their youth. The KSO pulls out TV themes from the 1950s through 1990s (heavy on the '60-70s).  Following intermission, the KSO re-lives the age of Saturday morning cartoons with themes from the Animaniacs to Rocky and Bullwinkle. The evening ends with the KSO accompanying full length Pink Panther, Bugs Bunny and Tom and Jerry cartoons live on screen. (see playlist below)
Bring blankets or lawn chairs.  Picnics welcome.

Free parking along the roadways within the cemetery.
There is no admission charge for this concert. However, we encourage and appreciate contributions. Your generosity keeps the music playing.
This concert is sponsored  by                                                      
On the Program    
The Wide Receiver (NBC NFL Football)
John Williams
Black & White 60's TV Olio —

Three Stooges, Bewitched, Dick Van Dyke, I Love Lucy,
The Addams Family, Leave it to Beaver, My Three Sons,
I Dream of Jeannie, The Munsters

arr. Terry LaBolt

T.S.O.P (Soul Train)
arr. Terry LaBolt
Johnny Williams' Television Themes —

Time Tunnel, Lost in Space, Land of Giants

John Williams / LaBolt

Mission Impossible Theme
Lalo Schifrin / LaBolt
TV Spectacular —

NBC News, Growing Pains, Night Court, L.A. Law, MASH, Dynasty

arr. James Curnow

"Yakety Sax" (Benny Hill)
Boots Randolph / LaBolt

Intermission

Theme from the Animaniacs
Richard Stone / J. Bernstein
"Cartooneage"  —

Bugs Bunny Show, Merry Melodies, Popeye, Casper,
Rocky and Bullwinkle, The Jetsons

arr. Terry LaBolt

"Pink, Plank, Plunk"
Beethoven / arr. Scot Woolley
"Baton Bunny"
Suppe / arr. Woolley
"Tom & Jerry at the Hollywood Bowl"
Johann Strauss, Jr.
.
For more information, call (859) 431-6216.
. 
**If you are sick or have been in contact with someone in the last 72 hours who is sick with COVID-19, please stay home.**