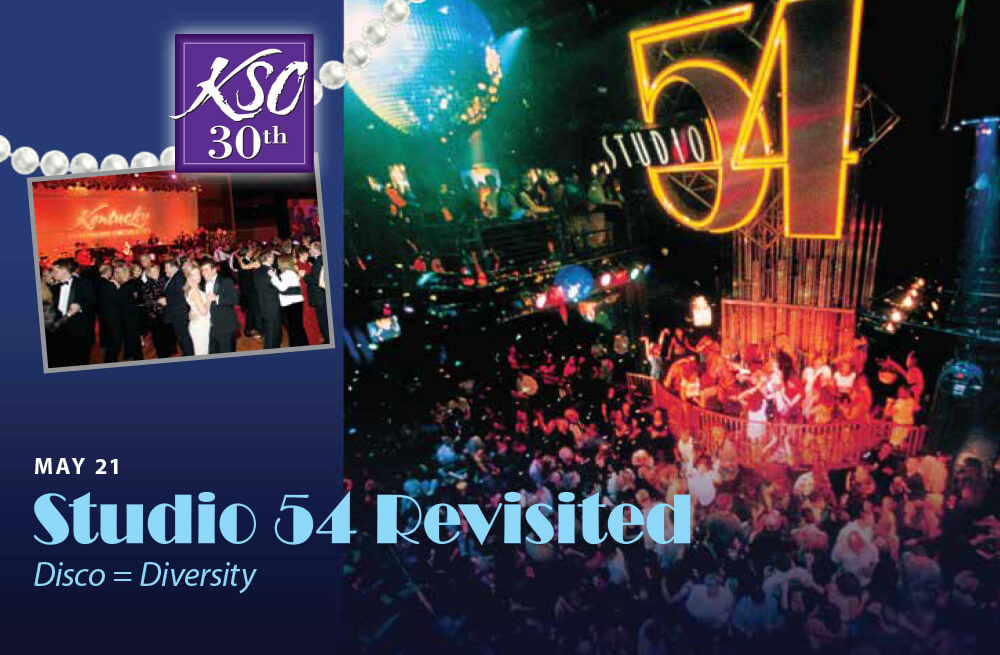 Studio 54 Revisited
Disco = Diversity

---
7:30 p.m. Saturday, May 21, 2022
Newport Car Barn,  Newport, KY

Forty-five years ago a popular music era was born, that was a truly unifying force, bringing together all races, ages and genders to simply share a good time. That music of course was known as Disco. These highly produced and thickly orchestrated songs drove everyone to the dance floors of clubs across the world. Studio 54 was the exclusive club in New York City that became synonymous with Disco, celebrities and other associations. The KSO authentically performs the charts of Donna Summers, The BeeGees, Barry White, Abba, The Village People, Vicki Sue Robinson, Kool & the Gang  and many more with its studio orchestra and vocalists amidst the mirrored balls, lights and nostalgia. Don't miss the Tri-state's only symphonic dance party.
Last year, the KSO stumbled upon the Newport Car Barn — the old depot (built in the 1890s) for electric trolley cars. As it is being renovated into a unique event space, the KSO thought it would be a "slammin'" place for a concert / dance and 30th season finale party.  Re-live the greatest disco tunes as performed by the KSO Boogie Band.
Single Tickets  $35 each, with two ways to enjoy performances — in person and via live stream! Every ticket purchased, automatically provides access to the virtual stream (and archived performance).   Single tickets for non-subscribers will be available March 6, 2022.  Single ticket sales subject to processing and handling fees: $1.50 per ticket plus credit card merchant fee 3.5%. Mailing an additional $1.15 if requested.
Get your tickets for less by subscribing now! 
Enjoy the "best" seats in the house at $5 off per concert with one low processing fee.  Plus the chance to get additional tickets before the general public.
Note: Your safety is our priority, the KSO follows current protocols at each venue including:
– physical distancing (limited capacity)
– providing hand sanitizer
– reducing touch points
– Wearing face mask (suggested).
Please stay home if you are sick, or have been exposed to anyone with COVID-19 in the last 72 hours.
---