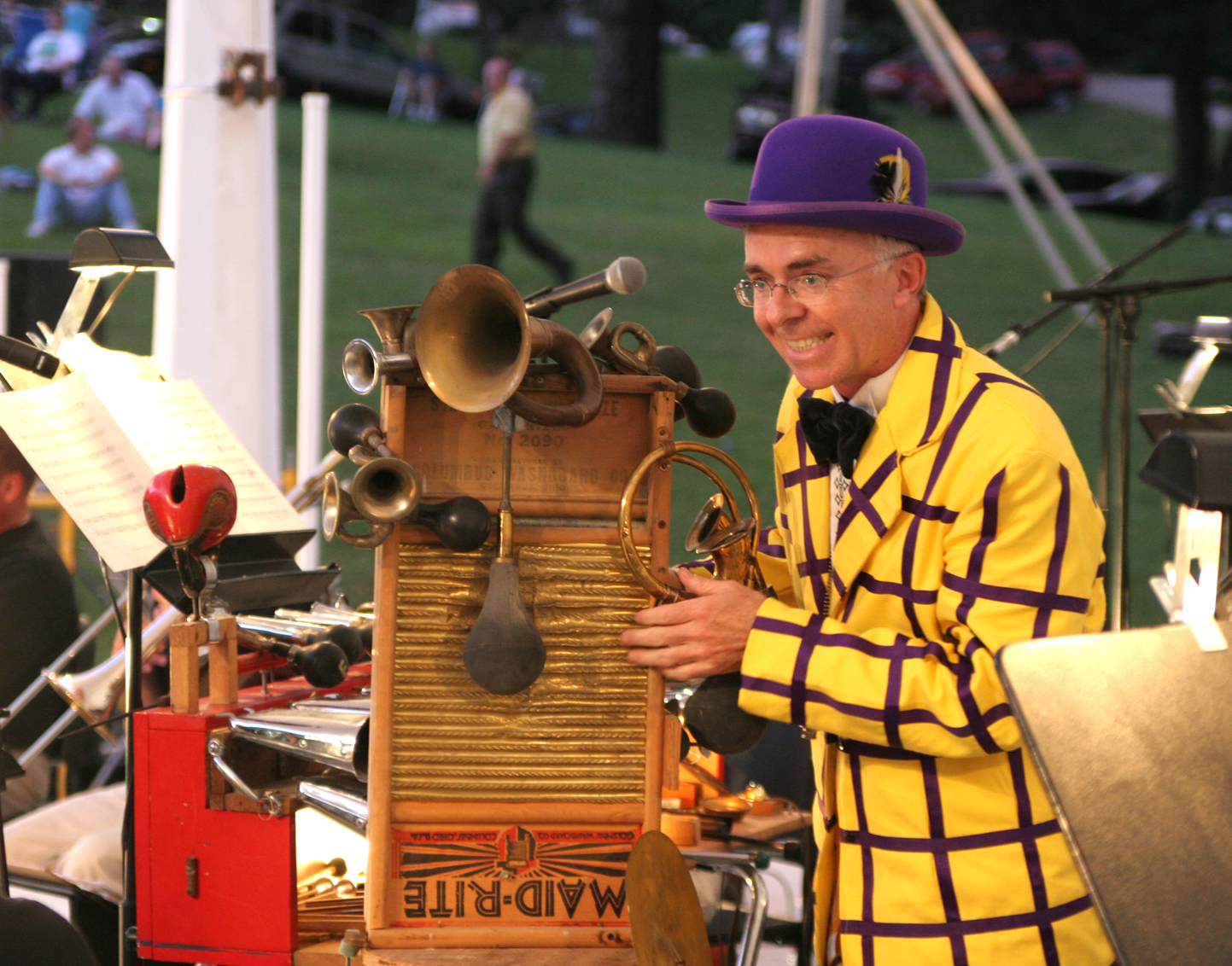 Who Spiked the Symphony- Devou Park
Who Spiked the Symphony?

7:30 p.m. Saturday, August 7, 2021
Devou Park, Covington KY
Register for concert updates! 
The KSO kills the classics with zany comedy bits and parodies with glugs, burps, breaking glass and clean fun for the whole family (especially grandparents).
In the 1940s and 50s, percussionist Spike Jones and his City Slickers were heard on the radio, recordings, on tour, and eventually via their own television show. The cast were all great musicians and zany comics. No music escaped their parodies — pop, jazz, country and classical music. New Orleans percussionist/entertainer, Carl Mack plays Spikes' original tuned cowbells, car horns, and kooky instruments, as KSO musicians and performers mock opera, historical figures, sporting events and songs with wacky antics. The KSO is the only group who recreates Spike Jones' original works live (see playlist below).
The TANK Shuttle will depart every half hour from Covington Catholic High School on Dixie Highway starting at 6 p.m., for $1 each way. Masks must be worn on the bus per current TSA health regulations.
Seniors and others who wish to avoid crowds are invited to attend the Saturday 10:00 a.m. dress rehearsal at Devou Park (all pieces may not be played uninterrupted).
Bring blankets or lawn chairs.  Picnics welcome. Concessions will be available. Parking is free but limited.
There is no admission charge for this concert. However, we encourage and appreciate contributions. Your generosity keeps the music playing. 
Register now to receive concert up-dates and a chance to win a $100 Amazon gift card plus a pair of tickets to the KSO's entire 30th Anniversary season (5 concerts Oct – May) — a total value of $475.  A $25 gift card drawing (Kroger or UDF) will be held five days after each Summer program, and the grand prize winner will be chosen on Sept 10th.  To enter the drawing, all you have to do is register and complete that concert's post-concert survey.
This concert is sponsored by 
If you are feeling sick or have been in contact with someone in the last 48 hours who is sick with COVID-19, please stay home. The performance will be streamed live on this website, on August 8 at 7:30 p.m. 
On the Program –
Farandole / Hall of the Mt. King ‡

Shh, Harry's Odd (Scheherazade) *

Cocktails for Two *‡

Morpheus †

Man on the Flying Trapeze †

Alto, Baritone and Bass †

Holiday for Strings *

Der Fuehrer's Face †

Dance of the Hours *

Bizet / Grieg

Rimsky-Korsakov

Johnston / Coslow

Offenbach / Maxwell

Leybourne / Lyle

Maxwell

Rose

Oliver / Jones

Ponchielli

Rhapsody from Hunger(y) (Goose to the Ballet Russe) *

Fiddle Faddle †

Charlestono Mio †

Chloe *

None But the Lonely Heart †

That Old Black Magic *

Pal Yat Chee (Pagliacci) †

Clink Clink Another Drink †

William Tell ‡

Arrangers: Carl Brandt*  Terry LaBolt†  Tom Roberts ‡

Brahms / Jones

Anderson / Maxwell

Rotello / Kaydan

Daniels / Khan

Tchaikovsky

Arlen / Mercer

Leoncavallo

Carling / Ohman

Rossini
For more information, call (859) 431-6216.