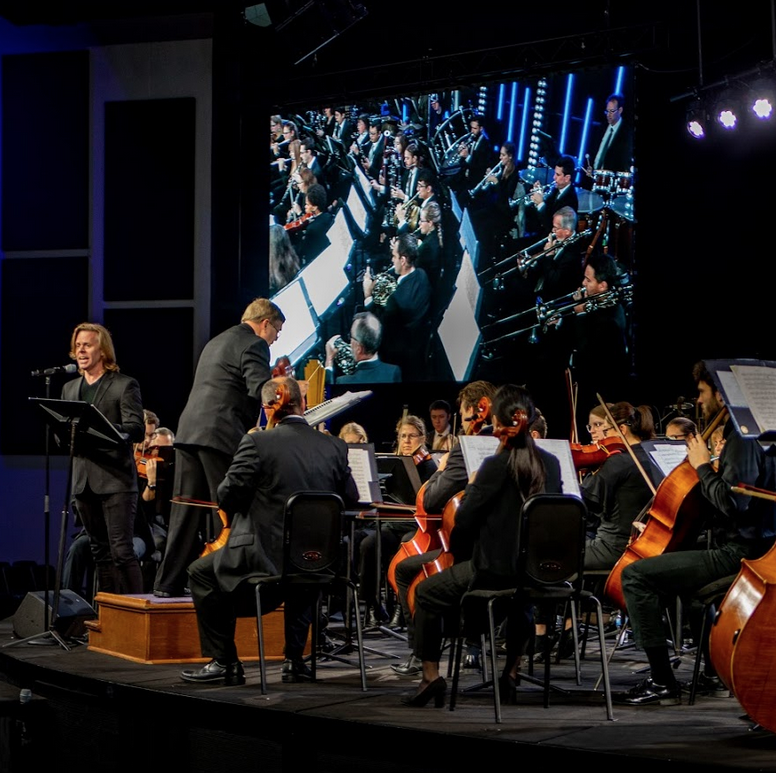 Back in My Day — In-person + Live-stream
October 4 @ 10:00 am
11:00 am
"Back in My Day"

A chronological survey of the history of the orchestra and its music.
Tuesday, October 3, 2023   10:00 a.m. (in person only)
Wednesday, October 4, 2023   10:00 a.m. (In-person and live-stream)
Florence Baptist Church
This program 0ffers a 300-year history of the orchestra and western music, with selections from the early 1700s (e.g. Handel's Water Music) to popular movie scores. At the performance students will see and hear how the orchestra grew in size and sound, receive interesting facts about the composers and learn how their environment impacted their musical works.  Those in attendance will also see and hear a fabulous young violinist, Erica Nam.
A question & answer session follows the concert giving students and teachers the opportunity to ask questions of any musician or the conductor.  The KSO will take student/teacher questions via text and email from schools attending remotely.  There is no charge for this program, but registration is required.  Special thanks to the Charles H. Dater Foundation and the Andrew Jergens Foundation for supporting the Education Series.
~Program ~
Handel:  "Hornpipe" from Water Music (1717)
Haydn:   Finale to Symphony No. 45 (Farewell) (1772)
Beethoven:   Symphony No. 5 (Mvt I) (1808)
Wagner:   Prelude to Act III of Lohengrin  (1848)
Sarasate: Carmen Fantasy (1883)  — Erica Nam, violin
Stravinsky:   Finale to the Firebird (1919)
Copland:   "Hoe-down" from Rodeo (1942)
Badelt / Zimmer:   Excerpt from Pirates of the Caribbean: "The Curse of the Black Pearl" (2003)
Lesson plans and activities on many of the musical selections offered on this program are available at Classics for Kids, produced by WGUC – Cincinnati Public Radio.  (Links found by clicking on the composers name above).
What teachers say —
"This performance was well paced, interesting and educational.  The performance was outstanding. The candlelight selection; 7th grade violinist and movie/music overlay were captivating. It was so unique for a symphony concert." — Debbie Schilling, Heritage Christian Academy
"The environment was intimate and it was great to see a young musician. The students could relate to that." — Rebecca Klaber, Grandview Elementary
"The KSO always presents an engaging informative presentation that is wonderful to attend.  I always enjoy bringing my students and they love it too." — Bonita Pack, John W. Reiley Elementary