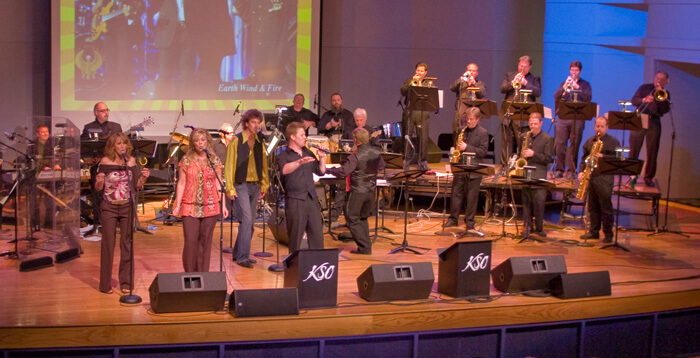 Boogie Nights

(70's Music, fashion, & dancing keep on truckin')

7:30 p.m. Saturday, July 8, 2023
Devou Park Amphitheater, Covington, KY 
Due to inclement weather, this "Boogie Nights" concert has moved from Devou Park to Greaves Concert Hall on the campus of NKU.  Free parking in Lots I and D. Doors open at 6:30 p.m. Free, general seating with wheelchair accessible area.  Food and drinks are not allowed in the concert hall.
 Admission is free, contributions encouraged.  
With the mid 1970s nearly 50 years in the rearview mirror, the music, fashion, true diversity and common groove of Disco made every night out a party, where no one felt excluded. Time travel with the KSO's Boogie Band and vocalists to the era of bell-bottoms, Afros, platform shoes, and the music of Donna Summer, KC & the Sunshine Band, ABBA, The Village People, The Bee-Gees and many more.  You will be dancing.
Seniors and others who wish to avoid crowds are invited to attend the Saturday 10:00 a.m. dress rehearsal in Greaves Concert Hall on the campus of NKU.
There is no admission charge for this concert. However, we encourage and appreciate your contributions, as your generosity keeps the music playing!
***Register for concert updates and a chance to win over $500 in prizes.***
Register now to receive concert up-dates and a chance to win a $100 Amazon gift card plus a pair of tickets to the KSO's entire 32nd season (5 concerts Oct – May) — a total value of $475.  A $25 gift card drawing (e.g. Kroger, UDF, Amazon etc.) will be held five days after each Summer program, and the grand prize winner will be chosen on Friday Sept 8th.  To enter the drawing, all you have to do is register and complete that concert's post-concert survey.  The survey responses help the KSO with securing foundation grants.
This program is sponsored by 
On the Program    (Click to listen to playlist on YouTube).

"The Hustle"
Van McCoy
"Disco Inferno"
The Tramps
Dancing Queen
Abba
"Le Freak"
Chic
"Shake Your Groove Thing"
Peaches & Herb
"A Fifth of Beethoven"
Michael Murphy
"Ladies Night"
Kool and the Gang
"If I Can't Have You"
Yvonne Elliman
"Oh, What a Night (December 1963)"
The Four Seasons
"No More Tears"  (Enough is Enough)
D. Summer /B. Streisand
"In the Stone"
Earth, Wind and Fire
                                                                         Intermission
"Boogie Nights"
Heat Wave
"It's Raining Men"
The Weather Girls
Bee Gees Medley:  "Jive Talkin'", "Stayin' Alive"
"You Could Be Dancin'"
The Bee-Gees
"Turn The Beat Around"
Vicki Sue Robinson
"YMCA"
Village People
"Don't Leave Me This Way"
Thelma Houston
"Car Wash"
Rose Royce
"Boogie Fever"
The Sylvers
"Last Dance"
Donna Summer
The performance will be streamed live on this website from Tower Park, on July 9 at 7:30 p.m. 

Need more information, call (859) 431-6216.