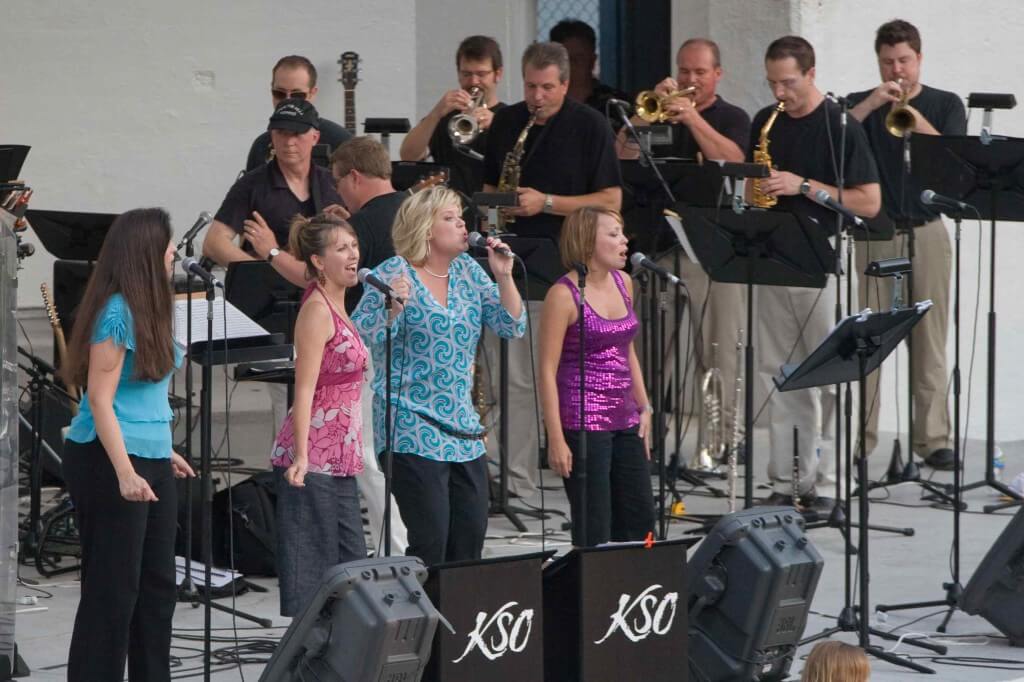 Girls Just Want to Have Fun
July 13, 2019 @ 3:30 pm
5:30 pm
She Bop Live
7:30 p.m. Saturday, July 13, 2019
Devou Park Amphitheater, Covington, KY
Join the Kentucky Symphony Orchestra as it open the 25th Anniversary Summer Series in Devou Park with the its studio orchestra celebrating 5 decades of popular female artists and girl bands — Patsy Cline, Whitney Houston, Adele, En Vogue, Taylor Swift, Patti LaBelle and many more. Whether you are a "Redneck Woman" or like to "Walk Like an Egyptian," call your gal pals and meet at the band shell to "Express Yourself," and for a litte R-E-S-P-E-C-T!  (See entire playlist below)
Register to receive concert news, weather updates, and more, and be entered into a drawing to win a KSO prize package worth over $325.
Admission is free, though a $5 contribution per person is encouraged.
Bring blankets or lawn chairs.

Free parking. 
The TANK Shuttle from Notre Dame Academy to the band shell runs from 6:00 -7:30 p.m. and returns following the concert for $1 each way.
The KSO's Summer Series in this beautiful, tree-lined park is really about the community coming together.
Few events today allow families, neighbors and friends to simply come out and share a relaxed and unique
cultural moment together. With your support the KSO brings generations together at the picturesque and iconic Devou Park bandshell in Covington, KY.  Your gift now help keep the music playing at the Devou Park Bandshell. Donate Now to help keep the music playing in Devou
For more information and directions, call (859) 431-6216.
Vocalist: Mandy Gaines, Marci Hedges, Chris Shenton, Lesley Taylor, Michelle Wells
On the Program
Song                                               As originally performed by:
"Girls Just Wanna Have Fun"…………..Cyndi Lauper
"I Will Survive"……………………………….Gloria Gaynor
"Crazy"…………………………………………..Patsy Cline
"Respect"……………………………………….Aretha Franklin
"It Happens"…………………………………..Jennifer Nettles
"Killing Me Softly" ……………………..….Roberta Flack
"Call Me"……………………………………….Blondie
"I Wanna Dance with Somebody"……Whitney Houston
"Close to You"…………………….……….. Karen Carpenter
"Lady Marmalade"…………….….……… Patti LaBelle
"I've Got the Music in Me"…….……… Kiki Dee
"Free Your Mind"………………………… En Vogue
"Express Yourself"…………………..…. Madonna
"At Last"……………………………..…….. Etta James
"When Will I Be Loved"………..……. Linda Ronstadt
"SkyFall"……………………………..……. Adele
"Redneck Woman"……………………. Gretchen Wilson
"It's Raining Men" …………………….Weather Girls
"Shake It Off" ……………………………Taylor Swift
"Walk Like an Egyptian"…………… The Bangles
"Save the Best for Last"…………….. Vanessa Williams
"No More Tears" …………………….Streisand / Summer