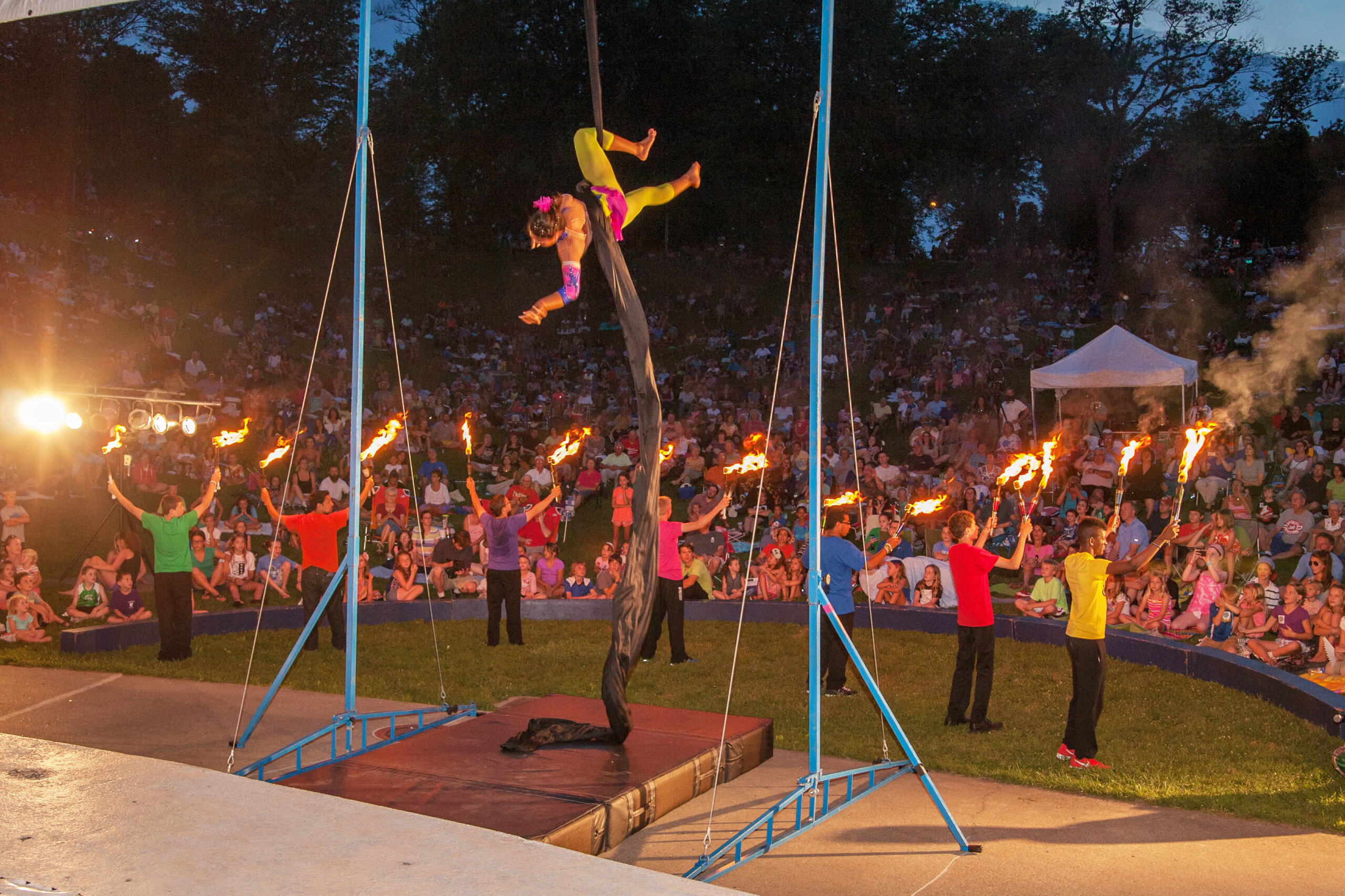 Swingin' Cirque Revue

7:30 p.m. Saturday, July 11, 2020
Tower Park Amphitheater, Fort Thomas, KY
The KSO brings its socially-distanced and safe 2020 Summer Series to Fort Thomas. Join the orchestra for a fun, family-friendly, and nostalgic concert in Tower Park. The KSO and Ludlow's Circus Mojo first teamed up in 2010 to bring high-wire acts, jugglers and high jinks to the Symphony. Ten year's later, they are back together with the orchestra's 10-piece swing group, The Devou-Doo Daddies, performing the high-energy 1990's swing revival music of groups like the Squirrel Nut Zippers, Royal Crown Revue, Big Bad Voodoo Daddy, and more. "Hey Pachuco" — what other symphony would combine zany high-flying acts with swing?

There is no admission charge for this concert. However, we do appreciate and encourage contributions.
Register now to receive updated concert news and be entered into a drawing to win a KSO prize package worth over $325.  We will be drawing a winner five days after each concert, and a grand prize winner will be chosen on Sept 10th.  To enter, all you have to do is register and complete that concert's post-concert survey.
Bring blankets or lawn chairs.  Picnics welcome. Concessions will be available.

Parking is free but limited.

For those considered to be at risk because of health or age, sickness, or exposure to COVID-19, the performance will be streamed live on Facebook. Seniors are also invited to attend the 10:00 a.m. dress rehearsal in the park if they wish.
The KSO and City of Fort Thomas want to share with you what we are doing to keep you safe, and comfortable when you attend. In compliance with Kentucky's "Healthy at Work" requirements, the KSO will:
– Encourage physical distancing (6 feet or more).
– Encourage use of face masks in close proximity.
– Provide adequate hand sanitizer and encourage hand-washing.
– Conduct daily temperature and health checks of staff, musicians, and volunteers.
If you are sick or have been in contact with someone in the last 48 hours who is sick with COVID-19, please stay home. For more information, visit https://kyso.org/event/re-opening/
For more information, call (859) 431-6216.
On the Program                                                            This concert is sponsored b

y
Title:

"Jumpin' Jack"

As performed by:

Big Bad Voodoo Daddy (BBVD)

"Go Daddy-O"
BBVD
"Bedbugs"
Squirrel Nut Zippers (SNZ)
"The Curly Shuffle"
Back in the Saddle Band
"You & Me & the Bottle…"
BBVD
"The Jitters"
BBVD
"Hey, Pachuco"
Royal Crown Revue (RCR)
"Zoot Suit Riot"
Cherry Poppin' Daddies (CPD)
"Please, Baby"
BBVD
"Mambo Swing"
BBVD
Intermission
"Mr. Pinstripe Suit"
BBVD
"The Contender"
RCR
"I Wanna Be Like You"
BBVD
"Hell"
SNZ
"In the Mood"
Glenn Miller
"King of Swing"
BBVD
"Ding-dong Daddy…"
CPD
"Mugzy's Move"
RCR
"Goin' Back to New Orleans"
BBVD