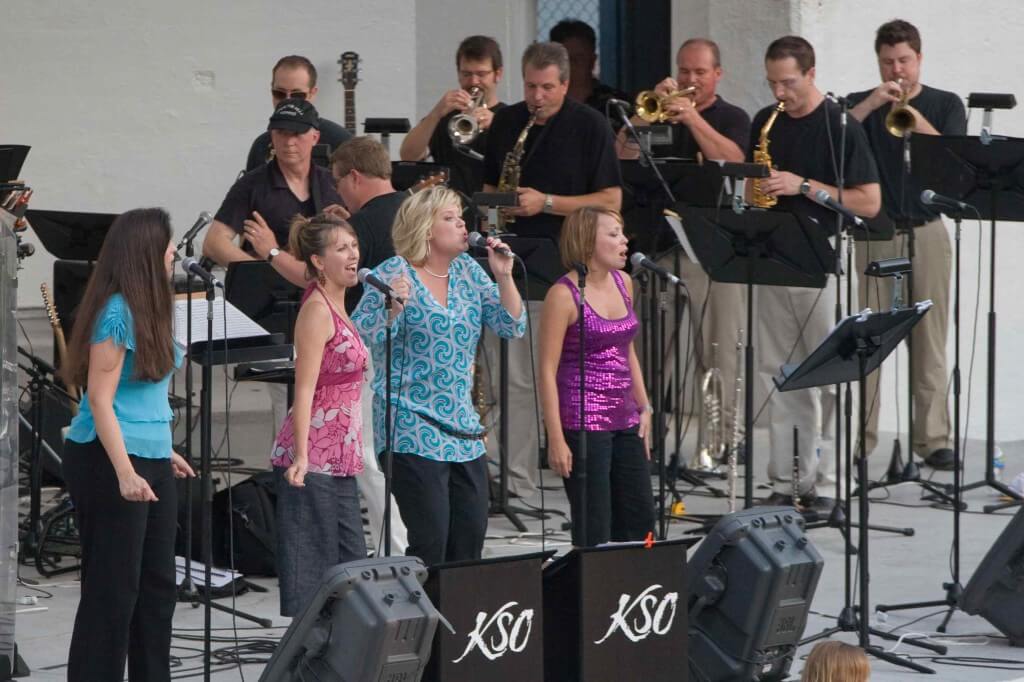 Pop-pourri
September 5, 2020 @ 7:30 pm
Pop-pourri


7:30 p.m. Saturday, September 5, 2020
Tower Park Amphitheater, Fort Thomas, KY
Join the Kentucky Symphony Orchestra for the finale of the 2020 Summer Series in Fort Thomas! The KSO's 21-pc. studio orchestra with vocalists — The Boogie Band — has covered some of the most popular radio hits of the past seven decades. With 300 charts in its repertoire (adapted by arranger Terry LaBolt), the group this Labor Day weekend offers nostalgic hits for all generations attending, including chart toppers from Patsy Cline to Camila Cabello and The Beach Boys to Bruno Mars. Be ready to dance, sing along and toe-tap to music of your youth (1950s-2010s), and say —so long to Summer.(Click for press release)
There is no admission charge for this concert.  However, we do appreciate and encourage contributions.
Register now to receive updated concert news and be entered into a drawing to win a KSO prize package worth over $325. We will be drawing a winner five days after each concert, and a grand prize winner will be chosen Wednesday Sept 9th.  To enter, all you have to do is register and complete that concert's post-concert survey.
Bring blankets or lawn chairs.  Picnics welcome. Concessions will be available.

Parking is free but limited.

For those considered to be at risk because of health or age, sickness, or exposure to COVID-19, the performance will be streamed live on Facebook. Seniors are also invited to attend the 10:00 a.m. dress rehearsal in the park if they wish.
The KSO and City of Fort Thomas want to share with you what we are doing to keep you safe, and comfortable when you attend. In compliance with Kentucky's "Healthy at Work" requirements, the KSO will:
– Encourage physical distancing (6 feet or more).
– Encourage use of face masks in close proximity.
– Provide adequate hand sanitizer and encourage hand-washing.
– Conduct daily temperature and health checks of staff, musicians, and volunteers.
If you are sick or have been in contact with someone in the last 48 hours who is sick with COVID-19, please stay home.  For more information, visit https://kyso.org/event/re-opening/
For more information, call (859) 431-6216.                                                        This concert is sponsored by

On the Program    
Click Title to listen, or click here to hear the entire playlist.