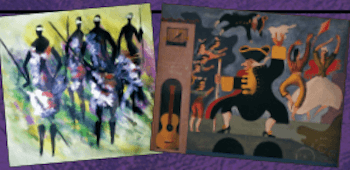 Happy Feet

20th century Ballet Scores

---
7:30  Saturday, January 21,  2023
Greaves Concert Hall, NKU
Some of the world's most beloved symphonic music is found in music of the dance and ballet scores. The KSO, in its quest to uncover unique and engaging music, found three inspiring and diverse 20th c ballet scores by Aaron Copland, William Grant Still and Manuel de Falla, which tell the stories of a wild-west outlaw, an African hunting festival, and Spanish seduction. The music and tales are colorful, employing cowboy tunes, ceremonial drumming and chanting, and flamenco flair and sizzle.
On the Program (preview this program)
Aaron Copland
Billy the Kid Suite

I. The Open Prairie
II. Street in a Frontier Town
III. Mexican Dance
IV. Card Game at Night
V. Gun Battle
VI. Celebration After Billy's Capture
VII. Billy's Death
VI. Open Praire (epilogue)

William Grant Still
 Sahdji (Tri-state premiere)


Young Professional Choral Collective Chamber & On-Call Choirs
Danielle Cozart Steele, director

Jason Alexander Holmes, bass

Manuel de Falla
El sombrero de tres picos (The Three-Cornered Hat) complete

Introduction
The Afternoon
Dance of the Miller's Wife: Fandango — El corregidor — La molinera
The Grapes
Dance of the Neighbors (Seguidillas)
Dance of the Miller: Farruca — Escena — La coplas del cuco
Dance of the Corregidor
Danza Final (Jota)

Quinn Patrick Ankrum, mezzo-soprano
Single Tickets
– A seats: $35
– B seats: $27
– C seats: $19
– Children (18 and under): 50% off
– Ticket sales subject to processing and handling: $1.50 per ticket plus credit card merchant fee 3.5%. Mailing an additional $1.15 if requested.
Live-stream and Virtual tickets are valid through March 23, 2023.
---