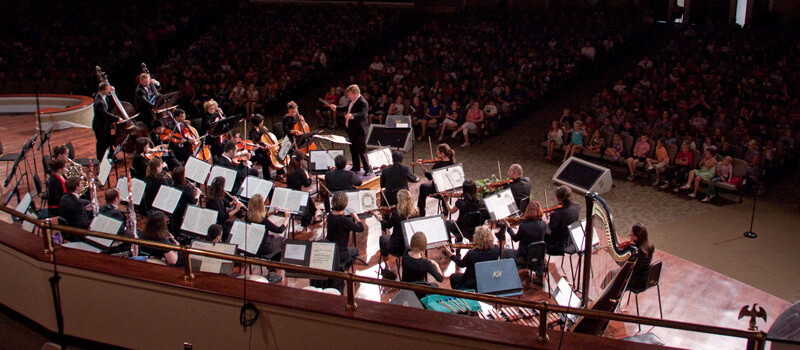 Getting to Know You Education Concert (IN PERSON)
October 30, 2019 @ 9:30 am
11:00 am
"Getting to Know You" — Halloween Edition
An introduction to instruments of the orchestra
Tuesday, October 29, 2019  9:30 & 11:00 a.m.
Wednesday, October 30, 2019  9:30 & 11:00 a.m.
Location:  7 Hills Church, 7300 Turfway Rd., Florence KY 41042
For 25 years the KSO has offered free education programs to schools throughout Northern KY.  Children have access to a comprehensive program as the KSO alternates "Getting to Know You" (An introduction to instruments of the orchestra) with "Back in My Day" (a history of the orchestra and its music).
This program focuses on the musical instruments that comprise a symphony orchestra. Instruments are heard individually, in families and as part of the entire orchestra. The Q & A session following the concert gives students and teachers the opportunity to ask questions of any musician or the conductor.  Admission is free but registration is required. Special thanks to the Charles H. Dater Foundation, Elsa H. Sule Foundation, R.C. Durr Foundation, and the Maxwell Weaver Foundation for supporting these programs.
~Program~
Paul Dukas: The Sorcerer's Apprentice
John Williams: Children's Suite from Harry Potter and the Sorcerer's Stone
**To Register for this program please complete the reservation form
The KSO does not offer transportation to concerts.  To assist schools with arranging transportation to these concerts we encourage you to click the links provided for resources available to schools in our area: ArtsLinks located in Cincinnati has an ArtsBus program for schools located within the I-275 Beltway, and Target offers field trip grants to fund the cost of buses.
We encourage educators to visit Classics for Kids, produced by WGUC, where you'll find free lesson plans, activity sheets and more!
Quotes from teachers who recently participated in this program:
To quote a student, "It was magical!"  — Sara Bijayananda, Burlington Elementary
"Many students have told me this is one of the best field trips they have been on. They loved it!"  —Holly Nibert, Goodridge Elementary
"Fun, upbeat, engaging!"  —Kerry Knollman, Arnett Elementary
"This program was perfect for my students, covering National Standards in Music. The music was engaging and the students learned a lot about the Orchestra and the instrument families." —Stephanie Collins, Caywood Elementary
"The KSO program is an excellent program. The program presents high quality orchestra music geared towards children. " —Bethany Hamann, Miles & Lindeman Elementary Schools