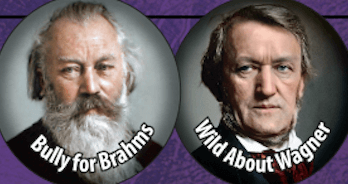 Cast Your Vote —Brahmsicans Vs Wagnercrats
October 22, 2022 @ 7:30 pm
October 24, 2022 @ 10:30 pm
Brahmsicans vs. Wagnercrats

A 19th Century Musical Debate

---
Voting ends at 10 p.m. on Monday October 24, 2022
Performed live on 7:30  Saturday, October 22, 2022.
***Virtual pass available until 10 p.m. October 24, 2022 ***
Greaves Concert Hall, NKU
The 19th century debate between the schools of traditional conservative symphonic and chamber music, led by Johannes Brahms and the progressive, harmonically complex, heavily orchestrated, epic forms preferred by Richard Wagner, led composers, musicians, critics and audiences to align themselves with one or the other camps.
The KSO thought it might be fun to stage a debate between the two musical parties, with each composer offering opening symphonic remarks and reversing the order of their responses (compositions) before issuing brief closing statements. The audience will brandish buttons and signs supporting their candidate composer. On-line surveys will determine the winner.
On the Program (click to listen)
Richard Wagner
Rienzi Overture
Johannes Brahms
Symphony No. 3

Brahms

Wagner

Hungarian Dances: 1,4,6,19 &21

Prelude & Liebestod from Tristan & Isolde
Joy Burdette, soprano

Wagner

Brahms

 "Ride of the Valkyries" from Die Walküre

Hungarian Dance No. 5
Click to Read complete Press Release
Single Tickets
Available approximately three weeks prior to each concert.
– A seats: $35
– B seats: $27
– C seats: $19
– Children (18 and under): 50% off
– Ticket sales subject to processing and handling: $1.50 per ticket plus credit card merchant fee 3.5%. Mailing an additional $1.15 if requested.
Get your tickets for less by subscribing now!
---