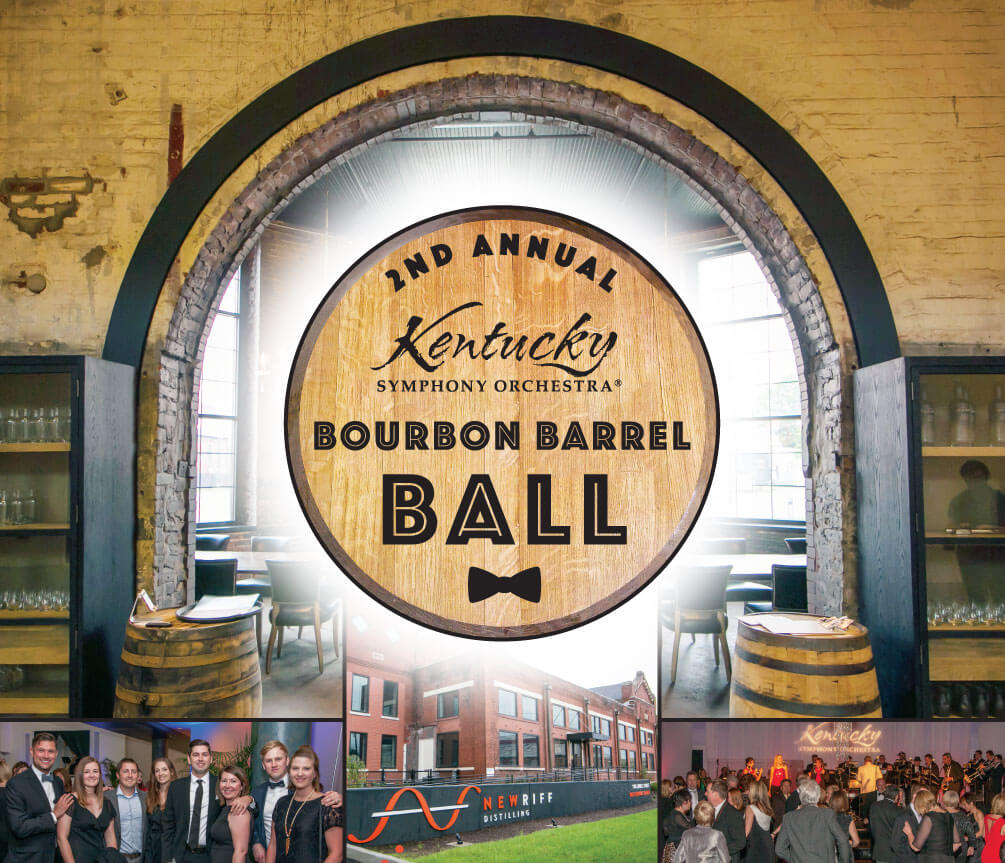 KSO Bourbon Barrel Ball
Saturday, April 27, 2019
New Riff Distillery (West Newport Campus)
1104 Lowell St., Newport
Event funds KSO's free park & school concerts
Event Tickets — SOLD OUT.

Includes: 2 drink tickets, a bourbon tasting card (4 tastings), seated 3-course meal (duo entree) with wine, live entertainment, New Riff tour (early), dancing ($40 tax deductible).
Call KSO at (859) 431-6216 for more info.
6:30
Cocktails, silent auction & bourbon tasting
7:30
Seated 3-course dinner with wine
8:30
Live music — Rat Pack Redux

(Frank, Dean, Sammy at New Riff)

9:25
O.F.C. Bourbon

(Raffle Drawing)

9:30
Live music / Dancing — Dazzling Divas

(R&B Royalty)
Black Tie Optional
O.F.C. (Old Fashioned Copper)
Vintage Bourbon Raffle
This vintage dated bourbon is one of three O.F.C. barrels released in spring 2018 and honors the O.F.C. Distillery, a National Historic Landmark at Buffalo Trace. The 1985 barrel filled only 61 bottles available world wide. This exquisite bourbon is packaged in a crystal bottle with real copper lettering inlaid in the bottle in a cherry wood display case. Retail Value $2,499.99.
Up to 500 tickets to be sold.
(116 tickets sold to date.)
*****Winner need not be present.****
$50 per chance
1 of Only 61 Bottles
Donated by The Party Source
KSO 2019 Bourbon Barrel Ball Partners:

The KSO has been granted it's own single barrel of New Riff Bourbon that it will be sharing with KSO angels who attend the KSO Bourbon Barrel Ball.
Over 200 bottles will bear the KSO / New Riff label with the contents recently tasted and selected by NKY bourbon connoisseurs and KSO supporters from amongst several New Riff single barrels.
Pre-order your special bottle today via the Party Source. $50.00 per bottle

The KSO's Single Barrel will be bottled available at the Party Source (all proceeds go to the KSO) beginning April 22nd. Bottles will also be available at the KSO's Bourbon Barrel Ball April 27th.
Pre-order yours today!
Terms & Conditions
Must be at least 21 to attend or purchase raffle tickets.
Bourbon must be picked up in person. The KSO will not deliver or mail bourbon.
All tickets are held at will call.
Please indicate with whom you'd like to be seated. (tables seat 8 & 10)
No refunds.
Ticket purchase includes sales tax.
$40 of each dinner ticket purchased is considered a donation to the KSO.