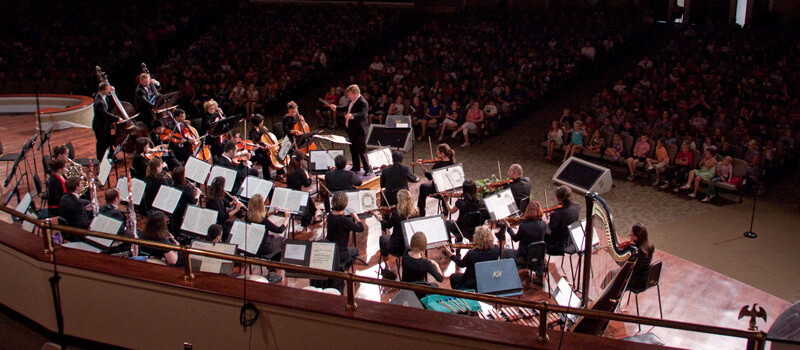 Back in My Day Education Concert
November 30, 2020 @ 10:30 am
January 10, 2021 @ 10:30 am
"Back in My Day"

A chronological survey of the history of the orchestra and its music.
The KSO celebrates its 26th year offering free education programs to schools throughout Northern KY and Greater Cincinnati.  The orchestra alternates "Getting to Know You" (an introduction to instruments of the orchestra) with "Back in My Day" (a history of the orchestra and its music).  This year 's program was held at 7Hills Church in Florence. The performance was captured via 5 or more cameras, which allowed close up viewing of the various instrument sections, and individual musicians.
This program presents a 300-year history of the orchestra and western music, with pieces from the early 1700s (e.g. Handel's Water Music) to popular movie scores of the new millennium. At the performance students will see and hear how the orchestra grew in size and sound, receive interesting facts about the composers and learn how their environment impacted their musical works. The finale to Hayden's "Farewell" Symphony by candlelight, and the KSO debut of 14 year old cellist, Miriam K. Smith, performing the last movement of Dvorak's renowned Cello Concerto are some of the highlights from our historical time line that ends with John Williams main title to Star Wars.
A question & answer session followed the concert giving students and teachers the opportunity to ask questions of any musician or the conductor.  The KSO also took student/teacher questions in advance and via text from schools attending remotely.  Admission is free, but registration is required.  Special thanks to the Charles H. Dater Foundation, R.C. Durr Foundation, and the Maxwell Weaver Foundation for supporting the 2020-21 Education Series.
~Program ~
Handel:  "Hornpipe" from Water Music (1717)
Haydn:   Finale to Symphony No. 45 (Farewell) (1772)
Beethoven:   Symphony No. 5 (Mvt I) (1808)
Wagner:   Prelude to Act III of Lohengrin  (1848)
Dvorak:   Cello Concerto (finale) (1894) w/ Miriam K. Smith , cello
Stravinsky:   Finale to the Firebird (1919)
Copland:   "Hoe-down" from Rodeo (1942)
Williams:   Theme from Star Wars (1977-2019)
Lesson plans and activities on many of the musical selections offered on this program are available at Classics for Kids, produced by WGUC.  (Links found by clicking on the composers name above).
**Admission is free, but registration is required. **
(Click to Download Program Booklet Here)
The KSO does not arrange or offer transportation to concerts. Unfortunately due to COVID19, ArtLinks has suspended bus grants this school year.
What teachers say —
"I loved the new venue!  The volunteers were friendly and helpful. The videography during the concert was wonderful and gave the students an up close look at the instruments.  Well done!" — Holly Trenkamp, Kelly Elementary
"This performance was well paced, interesting and educational.  The performance was outstanding. The candlelight selection; 7th grade violinist and movie/music overlay were captivating. It was so unique for a symphony concert." — Debbie Schilling, Heritage Christian Academy
I love the video accompanying, scanning the instruments as being played.  This significantly enhanced the educational experience for my students." — Amy DiChiara, Homeschool
"The environment was intimate and it was great to see a young musician. The students could relate to that." — Rebecca Klaber, Grandview Elementary
"The KSO always presents an engaging informative presentation that is wonderful to attend.  I always enjoy bringing my students and they love it too." — Bonita Pack, John W. Reiley Elementary
_________________________________________________________________________________________
The KSO and 7Hills Church are following Kentucky's "Healthy at Work" requirements

Nothing is more important than the health and safety of our community members.  The Kentucky Symphony is committed to the safety of our musicians, staff and audience.   The KSO will:
– Encourage physical distancing of individuals who are not in the same household.
– Face masks will be required for the duration of your attendance, and shall be worn by all staff, volunteers, and students.
– Provide adequate hand sanitizer and encourage hand washing.
– Conduct daily temperature/health checks of staff, musicians and volunteers.
– Clean and disinfected high traffic areas, and restrooms between sessions.
If you are sick, or have been in contact with someone in the last 48 hours who is sick with COVID-19, please stay home. For more information on this, click here.
For more information, call (859) 431-6216.