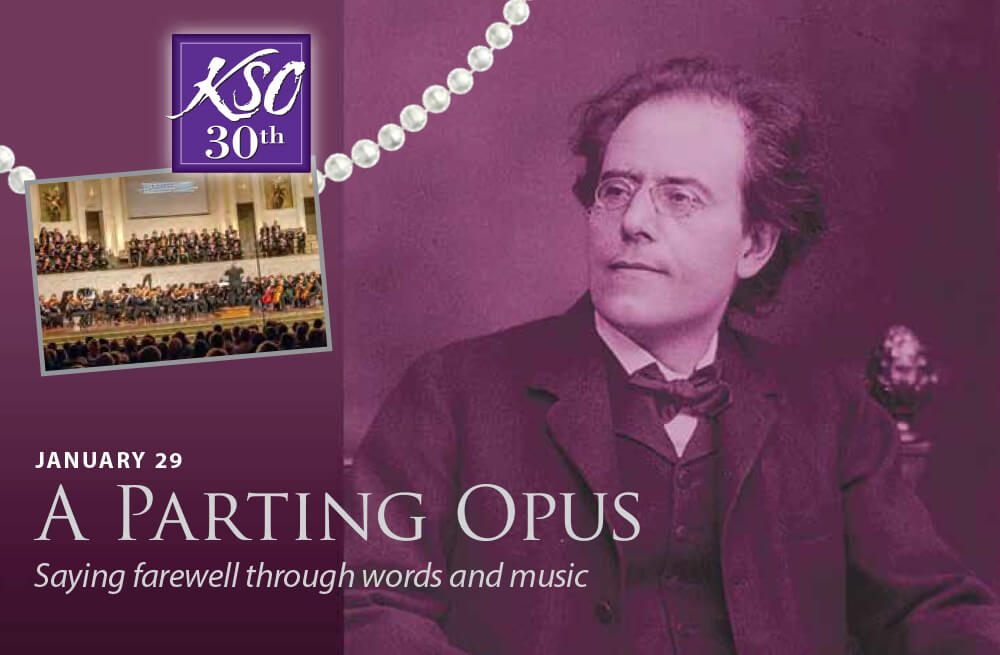 A Parting Opus

Saying farewell through words and music

---
7:30  p.m. Saturday, January 29, 2022
Greaves Concert Hall (NKU), Highland Heights, KY
Virtual tickets are sold through January 30, 2022 Only, access given for 60 days.
The KSO returns to the venue of its very first concert in 1992 — Greaves Concert Hall (NKU) — for Gustav Mahler's final complete composition — his Symphony No. 9. It is a poignant musical farewell penned by one of the first international conductor-composers who bridged the 19th & 20th centuries and expanded the symphonic form to its limit. The recent loss of his 4-year-old daughter and his own fatal heart condition diagnosis no doubt influenced Mahler's reflective and highly regarded work.  The concert will open with Mahler's Adagietto (from Symphony No. 5) for strings and harp. The KSO has offered commissions to U.S. & KY Poet Laureates to write poetry inspired by Mahler's 9th Symphony.  As a reflective summation of their own lives and works, these original poems will be juxtaposed with the KSO's performance of Mahler's parting opus.  Juan Felipe Herrera (U.S. Poet Laureate 2015-17) and Frederick Smock (KY Poet Laureate 2017-18) have submitted commissioned works inspired by Mahler's Symphony No. 9 that will be read and posted in the KSO's digital (smart phone) program.
Single Tickets $35 each, with two ways to enjoy performances — in person and via live stream! Every ticket purchased, automatically provides access to the virtual stream (and archived performance).  Single ticket sales subject to processing and handling fees: $1.50 per ticket plus credit card merchant fee 3.5%. Mailing an additional $1.15 if requested.
Get your tickets for less by subscribing now! 
Enjoy the "best" seats in the house at $5 off per concert with one low processing fee.  Plus the chance to get additional tickets before the general public.
Note: Your safety is our priority, the KSO follows current protocols at each venue including:
– physical distancing (limited capacity)
– providing hand sanitizer
– reducing touch points
– Wearing face mask (required by NKU regardless of vaccination status).
Please stay home if you are sick, or have been exposed to anyone with COVID-19 in the last 72 hours.
---